Well for those of you that have followed me from Ebay to my hyena cart, Diaperswappers, and etsy cart. I just want to say thanks so much for your support. Now that my children are growing up and out of diapers. I feel it is time for Scrappy Nappy to grow as well. I will soon discontinue all cloth baby diapers and some of the diapering extras I have made. So as for my Mama pads this spells doom for them as well since I will not have the scraps from the diapers to make them, these to must go. I will be making more crochet items and I'm considering making purses and bags for the Ladies. As an example here is one of my rag bag proto-type (I'm testing it as we speak)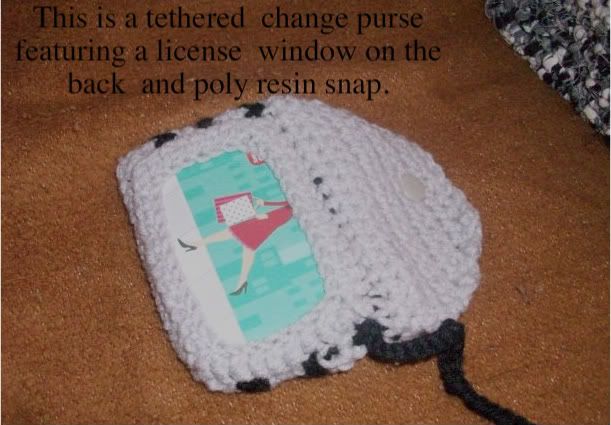 I'm excited to be offering such a nice item for Mom's pleasure. With all the bells and whisles too. I'm still working on a price as well. Looking to be around $30-$55 so far, so it will be in keeping with what you could spend at any store but with the OOAK flavor you just can get anywhere else. Plus it will be a close to "green" (earth-friendly) as possible and beautiful to boot.
However I will still offer some toys, cloth diaper wool covers (occationally), cloth diaper compatible pants, some kids clothes, and some bibs. New items will be hats, sweaters, purses, vintage style items, and new items with a vintage flare. I'm also working with some other artisans to offer you handmade jewelry. Another item to be added and also in progress are patterns for you to sew and/or crochet. These will all be purely printable so no shipping cost. Just download, print, and go.
So in closing, again I just want to say to all of my customers past, present and future, Thank you so much for supporting me in my endevors. Thank you for all your kind words and thank you for your purchases.
Sandi-owner of
Scrappy Nappy HC
Scrappy Nappy Etsy
Scrappy Nappy Zibbet
and slmroczka on Diaperswappers.com + Ebay